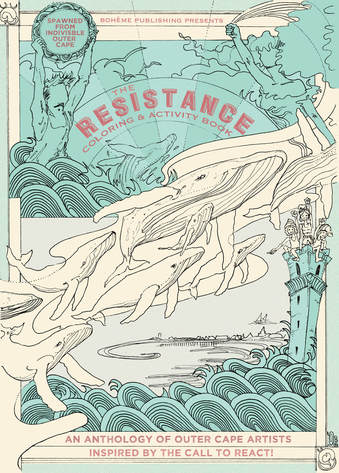 The Resistance Coloring & Activity Book | An Anthology of Outer Cape Artists Inspired By The Call To Rise Up!
SKU:
$20.00
$20.00
Unavailable
With one of a kind illustrations, coloring has never been this radical!!! Sales info: Release date August 2017, Coloring Book, 8.5" x 11", 40 pages, $20.00; Target Audience: All ages and anyone who loves to color and be an active member of their community.

Drawing on the talent and passion of more than 15 of Provincetown, Massachusetts' talented artists, each piece in the pages of The Resistance Coloring & Activity Book is its creator's personal interpretation of resistance. Its sum greater than its parts, this one-of-a-kind collection is a part-therapeutic, part-fun vehicle to inspire all to rise, resist, and persist
to preserve American democracy.

Every Penny of profit benefits Indivisible Outer Cape and Summer of Sass, which brings LGBTI young people facing harassment at home to work
and live in Provincetown.
​